Choosing the Landscape for Your New Custom Home
Introduction
The area around your home (future or present) is an important part of your living environment. Attractively and functionally landscaped, it can add to the enjoyment of your home, increase property value, invite wildlife into your yard, or even conserve energy! Successful landscaping does not just happen, however, it requires careful planning and at least some knowledge of landscape design. Your home's architectural features, neighborhood landscape character, effects you'd like to create, and how you plan to use your outdoor living space are all factors to take into consideration. It may even take several years of planting and construction to achieve your goals, but the first step in the process is planning and designing what you end up with.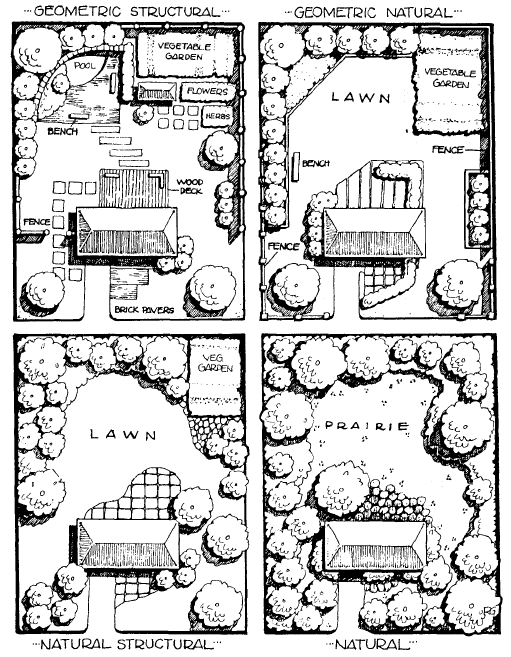 Landscape Style Options
Historically, most home landscapes were either formal or informal. Formal designs are often geometric and symmetrical, with plants and landscape structures specifically shaped and arranged. Informal designs make use of more natural-looking, irregularly-placed plants and structures. In recent years, however, more homeowners want their landscape to meet physical and social needs. This is partly a result of the environmental movement, which fostered a greater appreciation for nature, which has changed the opinion of many to favor informal or naturalistic designs.
In our experience, a home that blends geometric and naturalistic patterns is usually the most successful. Today's landscape styles can be divided into the following categories in which varying proportions of geometric and naturalistic patterns are combined:
Geometric-Structural: Geometric structure is primary and plants play a minor role.
Geometric-Natural: Structure dominates, but plants and other natural elements play an important, if not equal, role.
Natural-Structural: Plants, rocks, water, and earth forms dominate, but there is a clear sense of geometric arrangement.
Natural: Natural elements and materials dominate and there is no obvious human-determined form or structure.
Keep in mind, choosing your landscape style is only the first step in the process of choosing how to landscape your new custom home.
Feel free to reach out to one of our team members at Hagen Homes and ask about preferred landscape designers to help you with the rest of the process.
If you have yet to build your new custom home in the Southeast Wisconsin area, contact us today to get started!